Maeving is taking the industry by storm with the model RM1, an electric motorcycle riding at the forefront of transport built with the urban commuter in mind. We speak to Maeving co-founder Sebastian Inglis-Jones, about the company's origin, model and mission for the future.
CHARGE ON
There is a new pioneer in British vehicle engineering.
Founded in 2017 and based in Coventry, London (UK), Maeving is an electric motorcycle maker that aims to revolutionise urban transport and redefine the way we think about the urban commute.
With green transport at the forefront of everybody's minds, Maeving has taken a great leap forward in the electric vehicle (EV) sphere, represented by the brand's hallmark model, the Maeving RM1 (RM1), a motorcycle that manages to combine the best of a biker's wants with the pressing urban and environmental needs of the present day.
"We decided early on that we wanted to start a green business that helped combat climate change," begins Sebastian Inglis-Jones, co-founder of the company. "Will Stirrup (co-founder) and myself met at university, and after five years in commercial training and marketing careers, we figured that we had the knowledge and experience to start up our business with a focus on helping combat this issue.
"The idea behind Maeving and the RM1 model was inspired by our time in China; what we saw there was the future of urban commuter transport and we wanted to bring this to the UK. In China, everyone has small lightweight electric motorcycles, but crucially, these have removable batteries that you can take and charge at home or in the office like you would a phone or laptop, which completely overcomes the issue of waiting and charging infrastructure."
The RM1 is multi-faceted in its design, running on clean energy as well as being a widely affordable option in the market of electric motorcycles, all the while paying homage to a retro-style outlook of the two-wheeled machine. But the most important aspect of the model is that it makes use of these removable battery packs for practical charging.
This form of battery charging removes the common concern of waiting for an EV to charge at a station. For commuters, the removable battery can be charged during working hours or at home while they sleep overnight (taking around 3.5 hours to fully charge), making it a very simple yet effective solution to the negatives of battery charging and a practical commuting vehicle.
"Before 2017, none of that was happening in the UK," Inglis-Jones continues. "When we started the business, 22 million electric bikes with removable batteries were sold in China, and only 297 of this kind were sold across the whole of the UK – the market didn't really exist here.
"We dwelt on how to bring this vehicle transformation over to the UK and decided that the Chinese bikes were not quite the right standard for the UK and EU markets. We wanted to produce something that combined the practical elements of these motorcycles with higher quality and a great aesthetic, to answer the demand for European customers as well as legislative processes. So, we took the concept of a removable battery and introduced a motorcycle with the exceptional engineering expertise from one of the UK's oldest motorcycle manufacturers, Triumph, and a design that we wanted to see in the EV sphere. I believe that we have fulfilled the brief."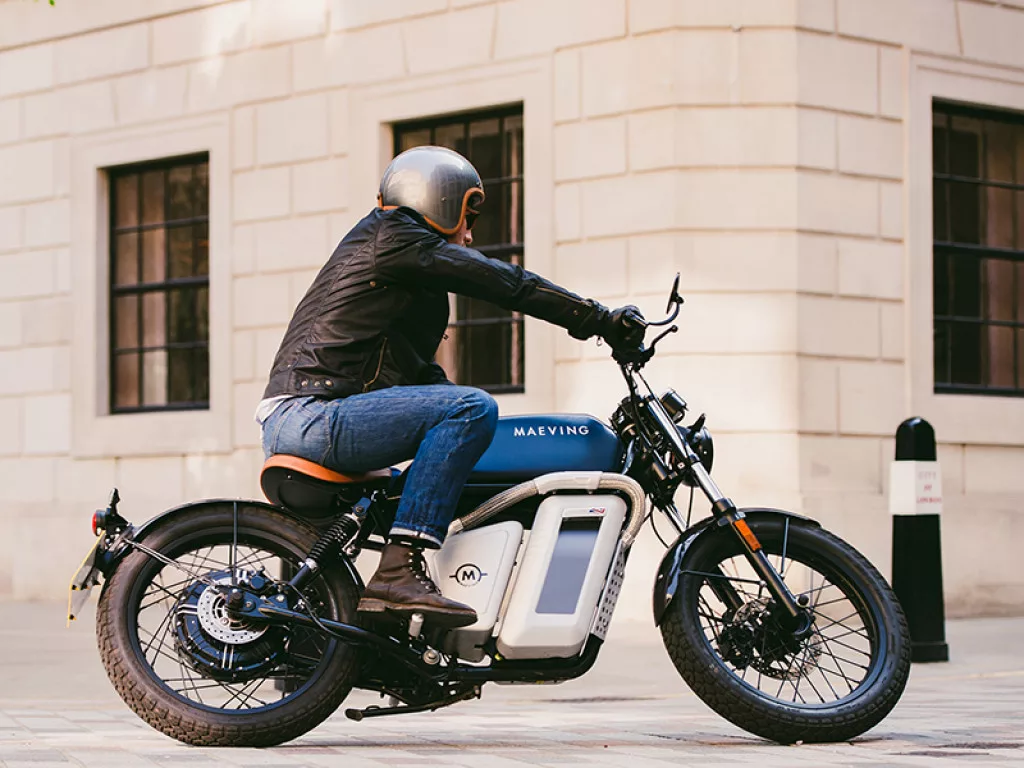 SMART RIDING
Maeving's RM1 has been built with the urban commuter in mind, redefining travel. The retro-style electric motorcycle is perfect for city streets and can reach a maximum of 45 miles per hour (mph) on straights, a realistic speed range for bustling urban travel.
When it comes to affordability, the RM1 is a pleasantly modest investment for its kind. Where many electric motorcycles can cost in excess of £10,000 (with some breaching £20,000), the RM1 retail price sits at the highly competitive mark of around £5,000 (£6,000 for its dual battery option). The bike can also be purchased on finance for as little as £107 per month which makes it one of the cheapest methods of transport around. Then there are the surprisingly low running costs.
"On the road, the RM1 costs less than £60 a year for 15 miles worth of driving every day – a commuting option that is hard to beat. We wanted to make it a practical and affordable option for many people, and the removable battery is a game changer in this space," Inglis-Jones elaborates.
"We see ourselves as having continued this technology by making the most energy-dense of its kind. The RM1 has a rear housing controller, and then a frontal one which has the proprietary battery. This opens on a hinge to the side so that it is easily accessible, slotting in smoothly after having been charged. The second optional battery can be stored in the "fuel tank" that doubles up as a 20-litre storage space for items like a raincoat or shopping.
"This storage option was another key aspect of the bike's design, and it was great to be able to deliver that right in front of the rider instead of beneath the seat. When the storage compartment is used to house the second battery, it automatically connects to the bike governed by a computer control unit and works in conjunction with the first in order to deliver the smoothest and most economical riding experience."
Maeving's RM1 does not skimp on other useful features. On top of providing the rider with a USB charging port for their phone, the motorcycle comes with a GPS tracker for added security in urban areas.
"If a vehicle has a GPS tracker, it has a 93 percent chance of recovery if stolen or otherwise moved," Inglis-Jones adds. "It is simple and important technology such as this that makes all the difference."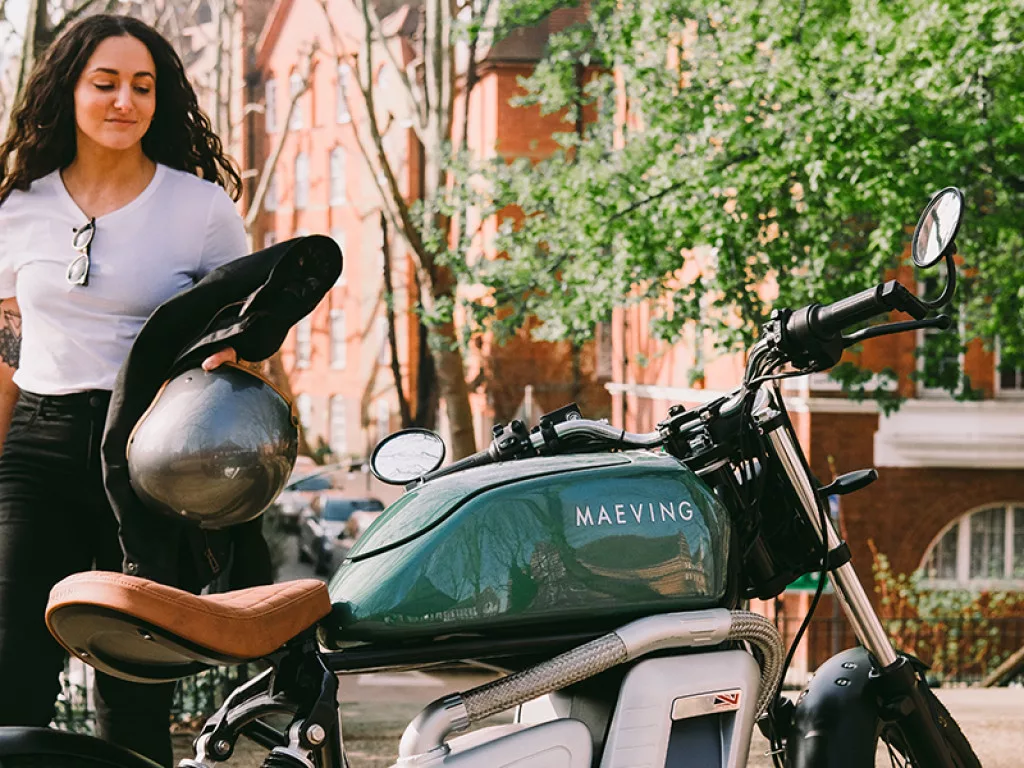 PEAK PERFORMANCE
Clean energy and practicality are two pillars at the centre of the Maeving brand, with the third being performance, one of the most important aspects of the RM1.
"We didn't want the RM1 to reduce the rider experience," Inglis-Jones says. "With most electric engine motors, you have a very high torque – high acceleration – and we wanted to keep this aspect. But usually, electric bikes introduce really big heavy battery packs and end up weighing around 250kg compared to a combustion engine motorcycle at around 160kg. These batteries are also the most expensive parts of the bikes; they cost huge amounts and don't deliver when it comes to range simply because of size and weight. These options cost up to three times as much as their petrol counterparts, with a limited range of 60 to 80 miles, meaning charging concerns are very real.
"The RM1 cuts out range anxiety, and at the same time provides a speed level realistic for a rider's experience in urban areas, increasing overall bike range significantly."
For Inglis-Jones, the electric transformation for two-wheeled vehicles is not fully recognised, and Maeving seeks to change that perception.
In the UK, 34 percent of sales are bikes of 125 cubic capacity (cc) or below, with most people being concentrated in cities across the country, making a lower power city bike a much more desirable option en masse than a top-end high-performance electric motorcycle for the individual with deeper pockets.
"This was the impetus behind starting the company and it remains central to our thoughts," Inglis-Jones tells us. "If we are going to drive transformation in this metric, we need to produce low power city bikes with removable batteries, high quality engineering, substantial range, and security."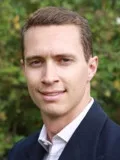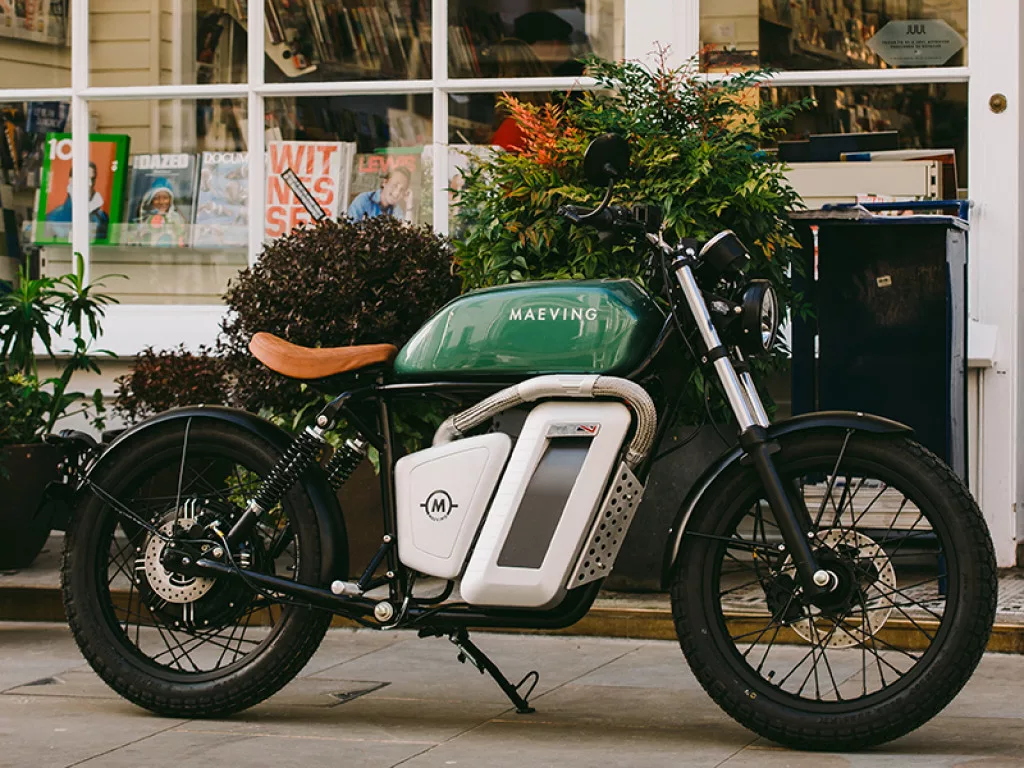 CITY HEALTH
Tackling the issues around urban pollution is a key part of Maeving's overall mission. In 2011, China essentially outlawed the use of petrol motorcycles.
"One of China's reasons for pushing the transition to EVs was to clean up the harmful gasses and particulates in the air," Inglis-Jones explains. "The electric motorbikes that they introduced helped to reduce fumes across cities and also had a lower maximum speed, allowing for greater distance and less energy usage.
"One of the other things that you notice when you are in Shanghai for example, is when the lights turn green and the streets are full of quietly moving traffic; the reduction of noise pollution is another benefit of electric engines. Quieter streets and cleaner city air are both better for people's health and the planet, and the positive impact of electric engines on climate change is front and centre for us."
Recently, Maeving commissioned an independent study to assess the company's impact of introducing the RM1 to the vehicle market. The study found that moving from a traditional petrol-powered motorcycle to the RM1 led to a 71 percent decrease in CO2 emissions, while moving from a traditional petrol car decreased by a whopping 84 percent.
"Interestingly, this study also showed that per mile, the RM1 was producing even less CO2 than somebody using the London Underground," he reveals. "That's a 22 percent reduction in CO2 emissions per mile taking into account use of our national grid, which is made up of a mixture of energy sources spanning renewables and alternatives to traditional sources such as gas and coal. Yet, an RM1 using electricity generated by renewable power results in a complete reduction of emissions across the board."
THE FUTURE OF THE URBAN SPACE
Another environmental benefit the RM1 provides urban areas is linked to its removable dual battery, which completely eliminates the need for charging stations and in turn saves environmental space in built-up areas. One large challenge of EV introduction is the need for infrastructure to go alongside them, and Maeving's RM1 avoids this issue with its portable batteries.
While EV fast charge points can charge a battery in around 30 minutes, the fast charge option is known to decrease the lifespan of a battery. Whereas an RM1 battery takes around 3.5 hours to charge, it does not impact the overall lifespan of the battery and, due to its portability, this can be done while at work, at home, or over the course of a night without waiting at a designated spot or using up more urban space.
"Battery technology and density are only going to improve, and we are always looking ahead to the future and the needs of people, cities and the planet," Inglis-Jones concludes.
Maeving's RM1 is a welcome addition to the electric motorcycle market, appealing to many with its practicality, green energy, high quality, affordability and smart systems. It's safe to say that the future of the urban commute is here, embodied by Maeving's company slogan: Charge on.