Cristian Taranu, Managing Director at UMEX, discusses his company's position at the helm of Romania's port operation.
EMPOWERING ROMANIA'S PORT OPERATIONS
Evolution. Today, it's everywhere.
For UMEX, a major player of Romania's Constanta port community, the company has evolved from a port operator specialised in handling project cargo into a versatile and dynamic entity, capable of handling successfully any type of unitised and bulk cargo.
The firm asserts the increased competitiveness of its customers through efficient and modern services of handling and storage of the operated goods.
Founded in 1978, UMEX was dimensioned and equipped using a terminal that includes heavy duty cranes, concrete open storage platforms, covered flat warehouses and specific equipment for project cargo handling. As the world cycles and markets continue to change, Romania's exports of such industrial equipment decreases, leaving UMEX to adapt in order to survive. This is done by diversifying the services and operated cargoes, which has meant that today UMEX is capable of operating any type of dry and break bulk cargoes.
Cristian Taranu is the Managing Director at UMEX. He is an experienced industry leader with a demonstrated history of working in the maritime industry and has been with the organisation since June 2018.
"In the past three years, we have focused our actions to organise a structure oriented to superior quality of services, respecting our every customer's particular needs," explains Taranu. "Our 350 workers are permanent employees, specialised, skilled and well trained; we can state that we have crafted a motivated and dynamic collective, respecting the working protocols, the safety procedures, the environment protection."
In 2011, the majority stake of UMEX was acquired by an Agricultural Developer strongly present in the Romanian market, naturally, bulk cereals and fertilizers have become a key part of its activity range, which is among one of the most important port operators within the segment. For Taranu, he is clear about what sets his organisation apart from competitors and he believes that one of UMEX's main advantages is its ability to be versatile and handle different cargo types, while performing different services to meet the company's client's entire logistics demands within the port. "This way, we have avoided to be restricted and interconnected to limited cargo flows, that may vary significantly and affect drastically our activity."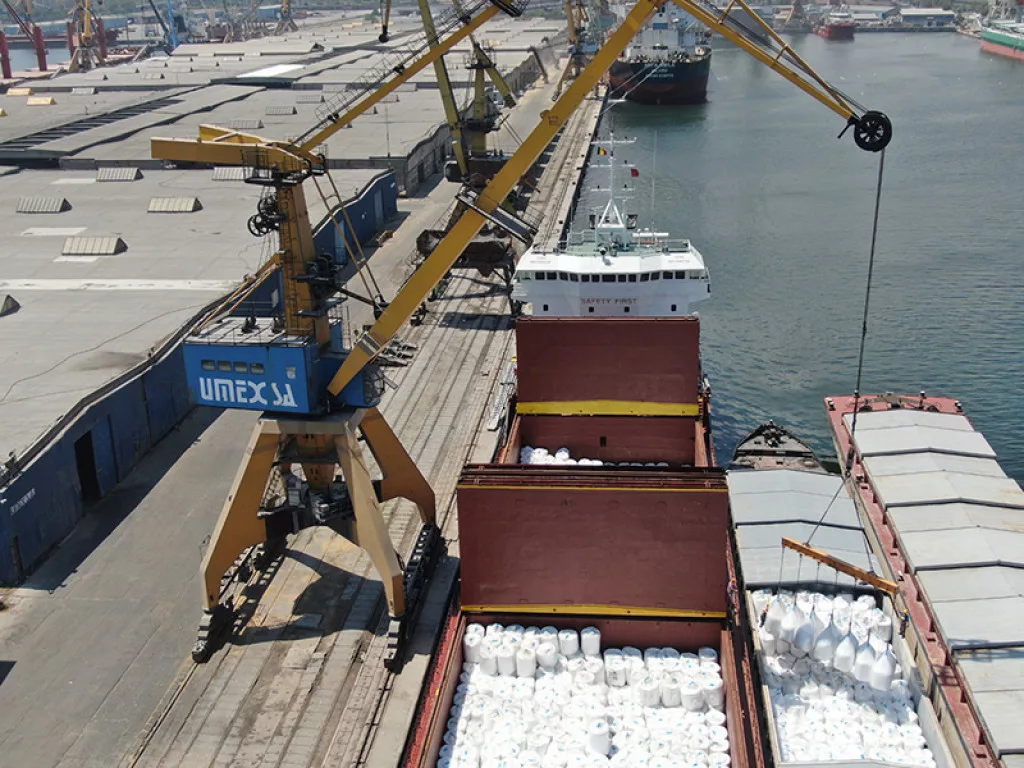 Another advantage is the quality of service which is linked to the pricing policy. "A major focus of UMEX management is oriented towards the service performance, and such actions are meant to consolidate the quality protocols," he explains. "The training of our operational and administrative staff is essential, as is the constant modernisation of the port handling equipment and storage facilities."
One of the biggest challenges is maintaining the balance between the service quality and the pricing policy, which is influenced not only by the internal costs, but also by the volatility of the cargo flows.
"This volatility creates a competitive environment in our port activity, but that doesn't necessarily lead to progress," says Taranu. "Under these circumstances, our ability to balance these elements can also be considered as a strong feature of UMEX."
UMEX possesses a diversified network of suppliers, stretching across all aspects of its activity. The company works with local and international suppliers, leading companies in their fields, capable to integrate their expertise in UMEX's specialised environment.
"From the providers of equipment, tools, materials needed to secure our operations to builders that are shaping our vision, from maintenance specialists to survey companies that complete our services range, we seek in our partners the same values as the ones that guide our actions," explains Taranu. "And since the supply chain performance translates into our performance, into our service quality which we value so, we are not only using some suppliers, but we are forming strong partnerships with these companies."
UMEX operates different cargo types with different operational and storage demands. "We are in the process of equipping one of our warehouses in order to propped accommodate (intake, storage and outtake) one specific bulk cargo – soda ash for import," says Taranu. "This is a new activity in our port, because as markets change, some cargo flow dies, while others are born. We have seized, together with our client that proposed the cargo to us, this opportunity, forming a strong partnership which is the foundation of this particular investment.
"Another warehouse will be authorised this year in order to store Ammonium Nitrate. This particular fertilizer is classified for physicochemical hazards and specified as dangerous in the IMDG Code. In order to be allowed to store it, an exclusively dedicated warehouse must be prepared and authorised as per the regulations in order. Following the fertilizers market tendency, in the past years the presence in our port is growing. After consulting our major clients in this segment, we are confident to have started this year the procedures for the warehouse authorisation, procedures that will take up to six months, as we estimate now."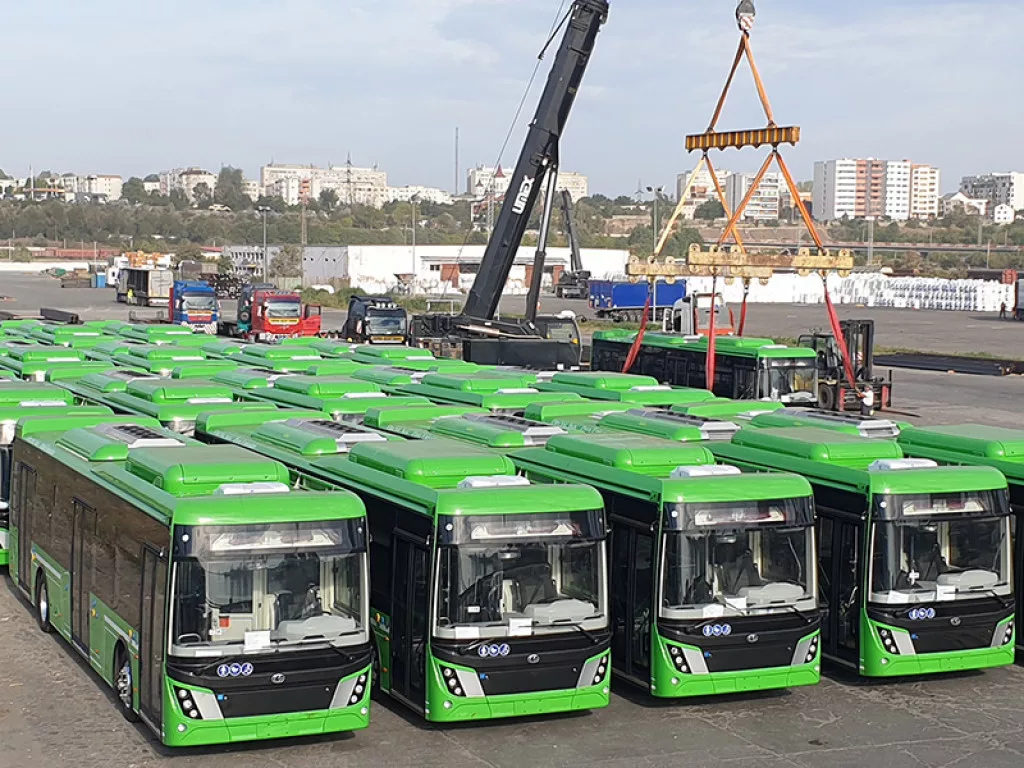 In terms of talent management, Taranu understands the importance of building a diversified and specialised business line that is based on personnel capability and performance. "We're involved in a highly specialised industry, to create a foundation of employees that delivers the high performance aimed is not an easy task," he says. "Especially considering that our region suffers from lack of workforce in the specialised segments: operators of equipment, equipment maintenance specialists.
"That is why we are involved in several programmes that support the professional education system, allowing the future specialists to form a practice knowledge of port working environment. And of course, within our organisation, we are supporting the evolution of each employee, providing schooling and training opportunities."
In order to deliver the best level of service to its customers, UMEX works hard to create a positive, energetic work environment for its employees, which is based on recognising and rewarding performance. "We have generated consistent and objective methods for evaluating the employee's performance, in order to determine the strengths, weaknesses and potential managerial gaps in the organisation. This way we're able to determine the performance levels for each employee and act accordingly."
With the future in mind, Taranu is clear about his plans for the coming years.
"The goals in hand are the usual ones, which we aim for every year: to secure the existing cargo flows, to attract new flows, increasing the cargo volumes handled through our terminal and expanding the turnover.
"All our actions are directed in this respect, and the quality of service is the main tool to benefit from. Referring to specific targets, we will finalise the ongoing modernisations and adaptation works for the soda warehouse, we intend to obtain the authorisation for the AN storage warehouse, we'll advance with the construction works for the fertilizers warehouse."